Size Guide
Size Guide
Please note this is for reference only.
Please refer to the product description for a more accurate size guidance.
Introducing Glocalme U2S 4G LTE Global Wi-Fi Device.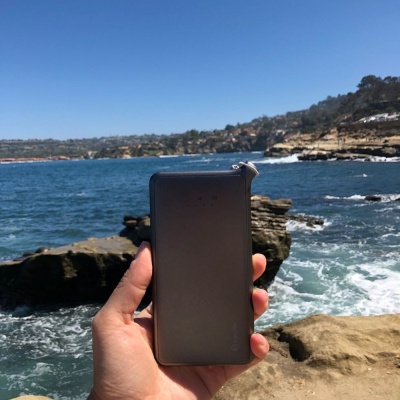 Are you a frequent traveller, a tourist, an expatriate, a business traveller, or simply just travelling to a foreign destination soon? A reliable and secure internet connection with free-roaming and worldwide coverage is the connectivity companion for you. Often when we travel to a foreign destination we tend to spend money on internet and roaming fees which can be ludicrous yet not secure or flexible enough for our needs. Now, with the technology Glocalme provides, you get the best of both worlds - affordable, flexible, secure, and fast internet connection.
How does it work?
No matter where you travel, Glocalme U2S easily searches for the local 4G/3G network in a few seconds and converts it into Wi-fi signals. The portable devices provide you with 4G speed internet experiences (150Mbps downlink, 50Mbps uplink), designed to be small and portable, and suitable for individuals and enterprises.
Features:
Fast internet access (4G LTE Mobile Network).
Supports 4G mobile network with up to 150Mbps for downlink and 50Mbps for uplink.
Works almost anywhere in the world (140+ countries).
Seamlessly connects up to 5 devices (phone, laptop, smartwatch, etc.).
Long-lasting battery life (13-hours service time). 3500mAh battery.
Private, secure, & reliable internet.
Slim, lightweight, & portable.
Free 1GB global internet data on purchase.
No roaming charge in international countries - roaming free.
External SIM Compatible (Dual SIM slots for supporting multiple local SIM cards)
Technical Support.
No Site Restriction.
Easy Operation.
Data Traffic & High-Temperature Protection.
Automatically enables traffic protection function in the background, to prevent traffic loss. In a high temperature or closed environment, it automatically stops working when excess temperature is detected, to prevent device degradation over time.
Allows access to unrestricted sites like Facebook, Google, YouTube, etc.
Recharge data packages from Glocalme mobile app at any time.
Specifications:
Brand: GlocalMe
Device: U2S Global Mobile WiFi
Model: GLMU18A01
Download Peak: 150 Mbps
Upload Peak: 50 Mbps
Battery Capacity: 3500mAh (3.8V, 13.3Wh)
Charger Interface: Micro USB 5V-1A DC
Network Standard / Support Frequency Band:
LTE-FDD Band: B1/2/3/4/5/7/8/9/12/13/17/19/20/26/28/18
LTE-TDD Band: B38/39/40/41(200M)/34
UMTS Band: B1/2/4/5/8
GSM/GPRS/EDGE: 1900/1800/900/850
WiFi: IEEE802.11b/g/n
SIM Slot: 1* Micro SIM
Product properties:
Colour: Grey, Gold
Item Size: 127 * 65.7 * 14.2mm / 5 * 2.6 * 0.6inches
Item Weight: 151g / 5.3oz
Package Size: 14 * 7.5 * 3.5cm / 5.5 * 2.95 * 1.4inches
Package Weight: 204g / 7.2oz
Package includes:
1* Global Portable Wi-Fi
1* Manual
1* USB Cable